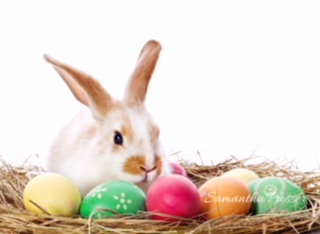 Wondering where to find the Easter Bunny in Central Alberta, or what there is to do this Easter holiday for families? We have the details for Red Deer and surrounding townships.
Head out to Parkland & Bower Place Malls to meet the Easter Bunny and get your children photographed with the big bunny himself!
The Easter Bunny will be at Parkland Mall March 28-April 4, or at Bower Place March 27-April 4 at regular intervals during mall hours. See guest services for more details.
Be sure to hop over to these great Easter events in Central Alberta!
Penhold Easter Egg Hunt
The town of Penhold has fun for every bunny. Egg hunts, cotton candy, bouncy castle, and more FREE fun! Check it out March 28th at the Penhold Multiplex from 1-3:30pm.
That Towering Cross – an Easter production
The Central Alberta Pregnancy Care Centre presents the premiere of the musical Easter production "That Towering Cross". Event details in link, with showtimes from March 26-28th. Tickets are FREE and donations are encouraged to further the CAPCC special housing project.
Flashlight Easter Egg Hunt
Smore's bar. 9 999 chocolate eggs. A 25lb chocolate bunny. You won't want to miss this great family event or date night adventure at Heritage Ranch. Don't forget your flashlight! Get in on the fun April 3rd at 8pm. Tickets required.
Heritage Ranch Easter Egg Hunt
Ride out to your egg hunting adventure in the wagon or carriage, and collect as many chocolate eggs as you can in ten minutes! Ride back to the ranch and enjoy a gourmet hot dog bar around the fire to finish off the fun. And of course, hot chocolate is included. Hop into the excitement April 4th at varying hunt times. Tickets required.
Spring Fling at Kerrywood Nature Centre
It's Spring Fling Sunday, Kerrywood's annual Easter event. Enjoy their famous nature egg hunt, crafting, activities, and prizes… A fun-filled afternoon outing for the family. Admission by suggested donation of $10/family on April 5th from 1-4pm. Call 403-346-2010 for egg hunt times or more information.
The MAG has a fun filled afternoon in store for you and your family. "Hop" into a movie in their Capitol Theatre, get crafty with family art activities, and enjoy learning about Red Deer's history together while discovering the museum. April 6th from 1-4pm. Admission by suggested donation of $10/family.
Sourced From Momstown Central Alberta
Leave a Comment